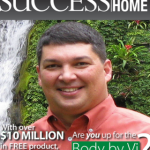 Facebook Just Released an Amazing Update that for a Change you are gonna LOVE!
Ever found someone that you wanted to business with?  That you KNEW if you could just get a little close to or an introduction to you would Impress them so much they wouldn't have any choice but to do business with you?   OK – maybe that was a little much but you get the idea right?
Well Facebook has given you the chance to do this and they won't even know what, or how, you are doing.  (Unless they watch this of course) 
This is a Power Packed 5 Minutes but OH So Worth it!
Just so you know, I have reviewed many different MLM Programs and been an active network marketing associate in a quite a few different MLM Marketing Companies over the last few decades and the one that gets MY highest Recommendation and the one I have had, by far, the highest level of success in is ViSalus.  
Want to be a part of the Fastest Duplicating Team
in All of ViSalus?