Increase Your Email And Webpage
Click Through Rates By 47% Or More
By Using Personal URL's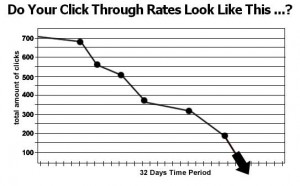 More and more I have been doing a lot of "Testing on Website Traffic and Conversion" to see what is helping business and website owners increase sales.  You see most people have bought into the myth that it is all about Traffic, more and more traffic.
Yet all that traffic is no good if it doesn't convert into sales.  I mean – the last I checked you can't eat a nice steak dinner if you don't actually convert some of that traffic into a profit, right?  But – if it is not all about traffic – then what?
Well – honestly traffic is a big part of it – as long as you generate Targeted Traffic To Your Websites.  Think of it this way:   if you are selling a a Mountain Bike do you really want to pay out a lot of money to someone and the only traffic they give is people looking for a BMW?  I don't think so.  You want people looking for that exercise bike.
So Targeted Traffic is a must.   But what else is important to get better conversions from your website traffic?
One of the Biggest Breakthroughs in Years for Internet Marketers and Small Business Owners,
according to David Frey of Marketing Best Practices, is the use of PURL's
PURL's or Personalized URL's is a script that gives a Customer that little "extra" Customer Satisfaction that comes from seeing the most important words ever created – Their Name.
Think about this – if I sent you a letter and said – hey go to www.TerryWygal.com/FirstName.LastName and it SHOWED your First Name and Last Name that would be pretty cool huh?
I mean – some customers would think you created a Webpage JUST for them.  I mean – it has their NAME on it… right?
The Curiosity Factor Will Drive Your Prospects To Visit Their Own Customized PURL Page Immediately.
PURL stand for "Personal URL" and it allows you to "automatically" create personalized webpages for every website visitor and mailing list prospect you have. You can customize the URL and your website copy with any variation of their name thus making it seem that you personally created the webpage directly for them.
Here is a picture of what a PURL (Personal URL) would look like in the address bar. 

Here is a picture of what a PURL (Personal URL) would look like inside of an email to your prospects. 
Not Only Can You Customize The 
Web Address

 (URL),
But You Can Also Customize Your 

Webpage

 With
The Prospects Name!

To see a complete demo of how this script works, fill in your full name into the demo box below.

Pretty Cool Huh – Take Our PURL Marketing Script For a Test Drive – OH And here is the Best Thing About PURL Marketing Scripts – the entire thing only takes about 2 Minutes To Set Up!  Even the most Techie Challenged Business Owner can set PURL Marketing up and have it running quickly!  David Frey LOVES PURL Marketing and after seeing it in action – I do as well.