Boss Ticking You Off?  Your Workload?  Your Level of Success?
Try this Simple Little Secret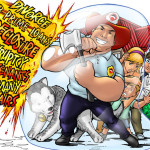 What do you do when your Boss, Family Member, Workload or Stress Level hit their Peak?
Let's face it – sometimes Bosses can be… well… Butts.
Or maybe just having a family member in a bad mood can make you feel pretty miserable.
Take me today for example – I just got back from a Killer Dani Johnson Training Seminar – Dani Johnson First Steps to Success – and while I was there I picked up a couple of courses I wanted to Devour.
I also have a Mastermind I belong to that has been generating some KILLER Training sessions I am trying to Implement ANNNDDDDDD
Of course I have my Visalus Team Members ANNNNDDDDD
Family.
What Do I do to get out and Clear My Head?
Take a look at the video and see for yourself.  😉