Terry Wygal Starts ViSalus Transformation
I am gonna go out on a BIG Limb here – literally expose myself for everyone to see.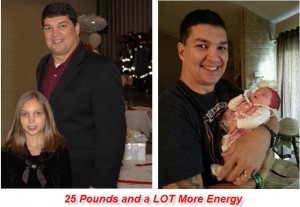 During the last 90 days you may have noticed that I have lost some weight.  What you may not have noticed is how fricking HEAVY I had gotten.  Well – check that – you probably did.
I am VERY proud to say that I lost 25 lbs in the past 90 days – but I also know I have a ways to go.
During this past 90 Day Visalus Challenge  I was able to:
Drop at LEAST 2 Pants Sizes

Complete a 5k 9/11 Hero's Run in FULL Fire Fighter Bunker Gear complete with Air Pack and Helmet (you can see the picture taken by following that link)
Complete the Tough Mudder in Austin Texas – a COLD, Nasty, Wet and SHOCKING 12 Miles of Pain In The ASS Challenge
Get my Dog Diesel to lose some weight and work HIS way into Puppy Shape 😉
Go from an Size X-Large Shirt to a Large for the first time in Decades!
That's easy – you set NEW Goals – and start the NEXT 90 Day Challenge.   I didn't start by doing the Tough Mudder – I didn't start by doing a 5k in bunker Gear.  NO!  I worked up to it.  Baby Steps… little by little.  and for the Goals I didn't quite hit?  Well I set the a little higher.
So – what do I do for the NEXT 90 Day Challenge?
Simple – I decided to go for 6 Pack Abs.
This means I am gonna have to drop a LOT of Body Fat to hit that goal.  I have a plan or 2 to do just that though… 😉
SOOOO This is me going Public with my 90 Day Challenge: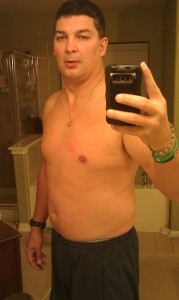 Weight – 217.6
Neck – 19
Chest 44
Waist – 41
Hips – 42.5
Upper Arm:  R- 14  – L: 14.5
Thigh:   R: 23.5  –  L: 23.5
Total Inches 158.75
Body Fat –
Billies Handheld says 28%
Scale says 32.3
Calipers say 24.7
( I will do all 3 of these going forward since there is no clear winner on that)
I will be using the Visalus Transformation Kit  And Parts of the Visalus Fit Kit for Extra Protein
My Exercises will include Bicycle Riding for Distance, Weighted Vest for Core, Kettlebells, Swimming and Rowing Machine.  PLUS I am sure my fellow Fire Fighters will be pushing me  quite a bit with their special methods of torture.
I want to dance at my Grand Daughters Wedding 30 years from now.
I want to see my Daughters kids grow into beautiful caring adults, when they finally have kids in a few Decades! 😉
I want to hit 75 Years of Marriage with my beautiful wife.
I want to be able to take on any challenges that any Emergency Scene throws at me and to protect my fellow fire fighters or the public from harm if he situation calls for it.
I want to inspire YOU to want to get into better shape and set YOUR Challenge Goals.  
You can do that by Commenting Below
let me know what YOUR Goals are
what you are gonna do to CRUSH them?