Results From The Travis Manion Hero's 9/11 5k Run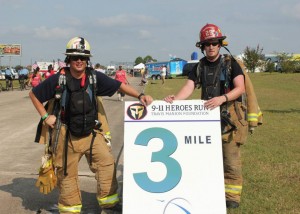 My Buddy and I decided to run the Travis Manion 9/11 Heros Run in Full Bunker Gear including SCBA as a Challenge in Honor of our Military Hero's keeping us Free.
I strapped a Go Pro Hero2 onto my helmet and off we went – –  3 .2 miles or so later it was over.
The Texas Heat darn near took us out several times.
In addition to the Gear, SCBA and Helmets we each had a Camel Pack to keep us hydrated throughout the race.   THAT came in VERY Handy.
Be sure and support the Foundation which supports The Wounded Warrior Project
http://911heroesrun.com/