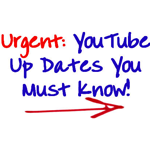 YouTube made some BIG changes recently on How To Get More Subscribers to View Your Videos.
If you are not aware of these changes you could be living under a false assumption that the same strategy that you have diligently applied still works – WRONG!
Fortunately you just need to apply a few simple tweaks and all your marketing efforts will payoff TenFold for you – again 😉 
It's a short 5 minute video – but VERY Important you know about the changes.